HOME
ABOUT CHRISTIAN
CDS
LIVE
LISTEN
BANDS/PROJECTS
PRESS
LINKS
---

BRYANT FABIAN MARSALIS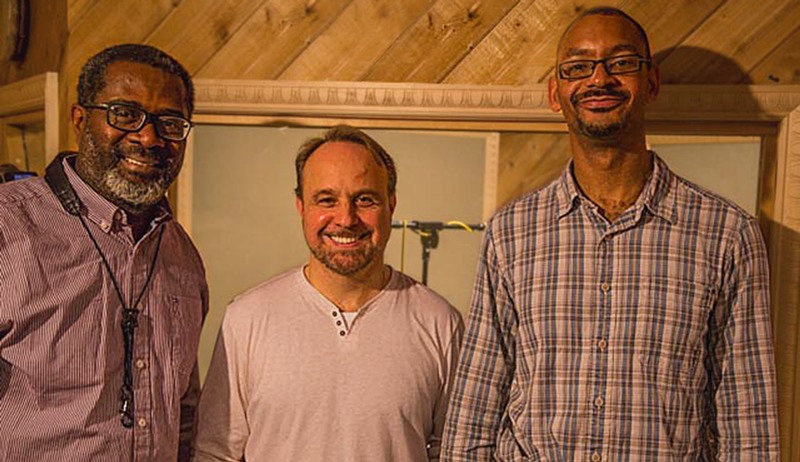 Bryant/Fabian/Marsalis is a new jazz project centering around original compositions and arrangements
by its members: Lance Bryant, tenor saxophone/voice, Christian Fabian, upright bass and Jason Marsalis, drums.
Christian and Lance met each other in the Lionel Hampton Big Band when Lance was the musical director,
and Lionel chose Christian for his Big Band Bass Chair. Jason also had the chance to perform with Lionel.
After Lionel's passing, the Lionel Hampton estate chose Jason to be successor to Lionel in the Band on vibes.
The members of this Trio have strong roots in jazz, and all play with a strong swing feel
based on the fundamentals of the blues. It is the Trio's intention to move this true jazz tradition
into the future, having learned the foundational principles from their mentors:
Ellis Marsalis, Lionel Hampton, Mike Longo and Ron Carter.
Currently new music is introduced, but many times the music has no swing, no traces of the blues—
no authentic American jazz roots. It is this Trio's intention to create new original music with authentic jazz roots.
Bryant/Fabian/Marsalis' first CD "do for you?" will be released in July 2017
on CAP Records, with liner notes by multi-Grammy® winner Kabir Sehgal.


"Our audiences frequently end up literally dancing in the aisles, and every venue we have played
(as the New Lionel Hampton Band featuring Jason Marsalis) has asked us back.
20 year olds who never heard jazz, 90 year olds who compose jazz—
all of the audiences love the real thing when they hear it. We want jazz to be uplifting, fun and
inspirational again, as it was in the heyday of Hampton, Ellington, Basie and the great jazz leaders.

"Our audiences are treated to stories about our experiences that entertain and inform them
about jazz history and authentic jazz. We are also able to explain what authentic elements
we are using and how we are transfiguring them into new music.

"The feedback we get is fantastic and many times we combine a show with a workshop,
where we give detailed explanations on our compositions. Many times when we teach younger students,
we hear from the parents how much this jazz music has inspired their child."


LANCE BRYANT

In 1990 Lance began his decade-long relationship with the Lionel Hampton Orchestra and in 1993 became the Orchestra's Musical Director and Principal Arranger. Lance Bryant comes out of Markham, Illinois, and studied saxophone, composition and arranging at Berklee College of Music and later with Frank Foster, the former director of the Count Basie Orchestra and Bruce Adolphe of Lincoln Center's Chamber Music Society. Lance traveled extensively with Phyllis Hyman, Jon Hendricks, Pete "LaRocca" Sims, Wallace Roney, AbdulahI brahim, Bootsy Collins, James Williams and performed in theTony-Nominated Broadway production of Swing! as an onstage musician, and in the Jazz at Lincoln Center Orchestra on the Broadway musical hit After Midnight. Other notable projects include: For the Love of Jazz on Mojazz Records (Lionel Hampton) and DemBones and Simply Natural on MaxJazz Records for Grammy nominated vocalist Carla Cook, and touring with South African pianist Abdullah Ibrahim and the Count Basie Orchestra among others.


CHRISTIAN FABIAN

Christian was born in Sweden, and moved to the US in the '90s to attend Berklee College. In New York he plays with Mike Longo's NY State of the Art Jazz Ensemble and around the metro area. With Jason Marsalis he and the other members of The Native Jazz Quartet, a band he co--founded, toured as Jazz Ambassadors for the US State Department in 2013 and 2014. Before receiving his scholarship at Berklee, Christian studied at Maastricht Conservatory in The Netherlands, recorded three albums with his band Time Design, and performed in Germany, the Netherlands, Belgium, Austria and Hungary. Lionel Hampton selected him as bassist for the Lionel Hampton Big Band in 1996, and he remains the Bass Chair of the Band. Other artists he has performed with include Jimmy Owens, Gary Burton, Danny Gottlieb, Lewis Nash, John La Porta, Elvin Jones, Cheryl Bentyne, Ed Thigpen, Makoto Ozone, Chaka Khan, Bob Mintzer, Charlie Mariano, Claudio Roditi, Rick Margitza and Jon Hendricks. His compositions earned two awards and three nominations with Hollywood Music in Media in 2008 and 2009 for Best Jazz Artist. His duo with ukelele star Herb Otha produced the Japanese hit CD Stardust 4 Strings on JVC. Christian's band Fabian Zone Trio has released six CDs since 2006 and reached #1 on Music Choice, Top 10 on Jazz Radio for Canada and Top 20 on Jazz Week 3 times.


JASON MARSALIS
Jason is the son of pianist and music educator Ellis Marsalis, and the youngest sibling of Wynton, Branford and Delfeayo. By the time he was six, Jason was taking lessons from the legendary New Orleans drummer James Black. In 1984 his father started using him consistently on engagements, and in 1991, he auditioned and was accepted at the New Orleans Center for the Creative Arts High School (NOCCA). In 1995, Marsalis joined a new group led by virtuoso pianist Marcus Roberts, while studying composition with Roger Dickerson and playing with Joe Henderson, Lionel Hampton, CasaSamba, Neslort, Dr. Michael White. In 1998 he co-founded the Latin-jazz group Los Hombres Calientes. In 2009, the Marsalis Family received the NEA Jazz Masters Award and were honored at the White House and the Kennedy Center. In 2010, he co-founded The Native Jazz Quartet, which recorded NJQ Stories in 2012 and toured for the US State Department. In 2013, Marsalis produced In a World of Mallets as a leader on vibes. The album went to Number 1 on the CMJ radio charts.